"Nothing can dim the light which shines from within."

- Maya Angelou
Generational Trauma and Ancestral Healing
DNA holds more than meets the eye, as emotional trauma has a lasting impact that can stick around for generations. The nature vs. nurture argument often arises when these topics are up for discussion, but controlled studies conducted on animals suggest trauma is inherited. Discovering the truth of your ancestors may not always be possible, but freeing yourself from the pains of your forefathers will empower you to break toxic cycles.
Keep reading for more on generational healing, inspired by Light Up Your Worth's recent podcast episode with guest Tracie Mahan.
---
---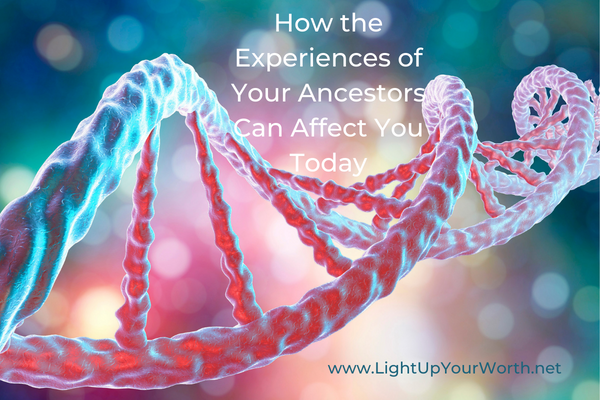 ---
What is Generational Trauma?
You may have experienced trauma in your life or turned to therapy for help with mental health struggles. But did you know that trauma is far more than an emotional experience? Tragic experiences make their way into our physical bodies, impacting us all the way down to our DNA, ready to be passed on to our children. Circumstances such as colonialism, slavery, genocide, war, famine, neglect, and natural disasters are some of the frequently cited causes.
Can I Recover from Generational Trauma?
Short answer – yes. Healing is always possible, but it doesn't always come easy. Committing to a type of therapy of your choice from a willing mindset that will allow you to grow and heal is essential, as no one can force you into the ancestral healing process. If you think you might be affected by intergenerational trauma, check out this useful resource by Healthline, and kick-start your healing.
How Long does It Take to Heal?
Healing the often deep and enduring lacerations of trauma takes many years. Of the volunteers that Tracie Mahan has seen, it often takes at least three generations – and a lot of hard work – to heal from generational trauma. As a practitioner of QHHT (quantum healing hypnosis therapy), her work also looks at past lives to identify connections with the present incarnation. We carry the energy of our past lives and ancestors with us everywhere.
Feeling Trauma in the Body
Do you ever feel a pain that has seemingly come out of nowhere? Perhaps your leg starts hurting, or you begin to experience chronic migraines. Looking back on your life, from childhood to two years ago, could shine a light on the crux of the issue. Trauma-informed physiotherapy releases emotional trauma trapped in the body, setting you free for spiritual awakening.
Going Deeper on Ancestral Trauma
Are you intrigued by this top and curious to learn more? Join me as I interview Tracy Mahan, diving deep into the ancestral healing techniques used to stop generational trauma in its tracks. Check out episode 86 of the Light Up Your Worth spirituality podcasts on all major streaming sites and stay tuned for more growth and self-improvement podcasts.
Are you ready to make the leap into your own spiritual healing and personal development? It's easy to experience your energetic healing by visiting our Light Up Your Worth home page.