"Regret is an appalling waste of energy; you can't build on it; it is only good for wallowing in."

- Katherine Mansfield
Have You Wanted to Make Changes?
Have you wanted to make changes in your life and begin to take steps in getting started. It's going along with some bumps, and you keep moving forward then 💥bam, a life event happens with our adult children and that familiar pull to jump into their crisis overcomes us.
We fall back into the patterns of a martyr or taking care of everything so that nothing fall through the cracks in their recovery process of the crisis. You put your own needs on hold, again.
Tears gently flow out of you in quiet moments, you wonder when it is going to be your turn to focus on yourself, you push away the resentment as that isn't positive or even allowed as a mom. The disappointment and grief of what you can envision for your child and the reality of the crisis. Your strength and taking charge has been your role in the family dynamics, and yet you are ready to let them step into their own journey . . . . and not ready.
---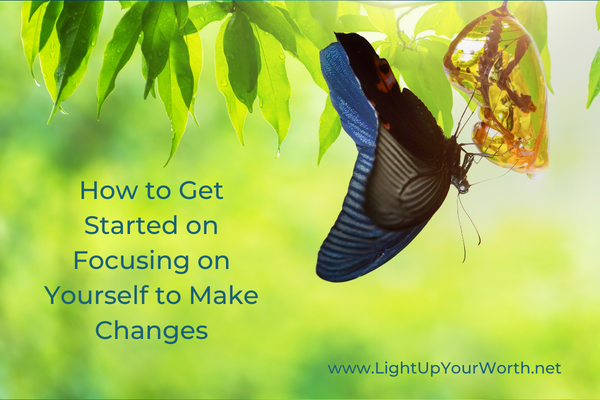 ---
What is Holding Me Back from Making The Changes?
Within yourself is the beliefs wrapped around the experience. The fears of their failures, their pain, their dropping the ball and the consequences that will follow. You don't want them to feel or experiences their consequences, so you pick up where they are not stepping forward. In your picking up the pieces you are not allowing them to learn through the "figuring it out" of their own journeys. We deny ourselves and we deny them. It's a two-edge sword of pain. Then we begin a cycle of doubt and questioning of who we are as a parent and as a woman and continue to instill the belief in yourself and your children of their own worth. Ouch!
The shame of their life experiences triggers your own doubts of being a parent, as you compare how your parents did not support you and how you did everything you knew to "help and support" your own children so that they can feel the love and support you wished you had growing up or as a young adult.
Why is Letting Go of These Patterns, Beliefs, and Behaviors so Challenging?
Through science we understand that we first must been to become aware of our pre-existing beliefs that were influenced by your early environment of growing up, your parents, friends, what you watched on tv or listened to on the radio, teachers, your neighborhood, and the experiences that you observed. Once you begin to explore your own beliefs that were developed to keep you "safe", you can then begin to explore what beliefs no longer serve your highest good now.
How Do I Begin to Explore My Beliefs?
It feels almost counter intuitive in the midst of a child's recovery of their own crisis to pause and allow yourself time to reflect alone, without the distractions or guilt of helping them through these moments. The beliefs around being a good mom and the guilt rises within us. It's a powerful anchor to a deeply rooted beliefs in our cultures of what defines a good mom and it doesn't involve being selfish.
The first step would be to spend some time in-between the hustle and bustle of these moments to write out everything that is coming up for you to review and reflect upon. Even better yet would be to take a day or week away with yourself to feel the emotions and write or speak out of yourself. I like to use the recording on my phone to get the feelings out when I am not able to articulate my words to write.
If you can set up your space with soft or inspiring music, infusing a citrus essential oil or lighting a favorite scented candle, a short, guided meditation or energetic healing to bring you into your highest space within yourself or simply ask your higher powers to help you release what needs to be shown to you.
A few sample questions to get you started:
Where did I learn what being a good mom looks like?

What does being a good mom involve doing with my adult children?

How did I see being a good mom look like through friends, colleagues, and my own core family?
Connecting the Conscious With The Unconscious Beliefs
The free writing will provide clues for beliefs for future exploration. It can provide a starting point of where to go deeper and discover more within yourself. It can allow you to begin to pay attention to your thoughts and the behaviors that follow.
Understanding these beliefs can provide the information to know where to begin your own belief digging and releasing beliefs that are outdated and no longer serve you.
Trust The Process
The blend of mindset coaching, and energetic healing has the ability to go through the journey to co-create the beliefs that will bring out the best in you and your children.
The mindset coaching focuses on your conscious beliefs and the energetic healing can allow the deeper exploration into the unconscious mind. The energetic healing allows the generational beliefs that you inherited into your DNA to be unwound, released, and healed in our unconscious mind.
Keep in mind that this is a journey and not an instant change within yourself. Allowing yourself grace and forgiveness as you step two steps forward into your expansion and then take a step backwards. As we change our beliefs, we need to allow the challenges to be seen as part of the process. These challenges are here to provide an opportunity to dig deeper into more beliefs and to enforce the commitment to ourselves. Replenish your soul with simple pleasures of being in the moment while watching a sunset, dancing to your favorite uplifting song, or connecting with a soul sister friend.
Trust The Process
Opening yourself up to expanding your own views can include travel, signing up for a course to learn a new interest or hobby, visiting a museum or local state or national park. Exploring new activities can push you out of your comfort zone. As we push out of our comfort zone this this feels awkward and confusing. Remembering that you have strength, resilience, and your greatest supporter within yourself, tap into her. As Glenna Doyle shares, we can do hard things.
Holding the space for you and your own expansion.
Are you ready to make the leap into your own spiritual healing and personal development? It's easy to experience your energetic healing by visiting our Light Up Your Worth home page.