"Self-compassion is key because when we're able to be gentle with ourselves in the midst of shame, we're more likely to reach out, connect, and experience empathy.

- Brene Brown
The Physical Benefits of Healing From Trauma Helps More
How letting go of shame and healing from trauma will set your body free
Healing From Trauma for Your Body
Emotional struggles impact far more than just the mental realm. When we don't process traumatic experiences, they live within us, and the toxic vibrations seep into our organs. That's why holistic healing is vital — it recognizes the intrinsic connections between mind and body when overcoming trauma and the emotions that come with it.
Are you ready to take control of your mental and physical well-being? Keep reading for guidance on how to process the trauma stored in the body.
---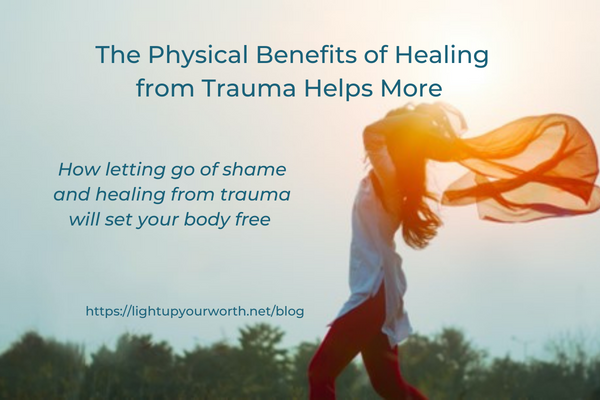 ---
Guilt, Shame, and Trauma
Studies show that shame is the predominant feeling that follows trauma. Even though it may be irrational to blame ourselves, it is a trauma response we often learn in childhood. Shame and guilt are two parts of the same coin; if we do something that causes us to feel shame, guilt often accompanies it.
Kinesiology is a holistic therapy that measures vibrational bodily responses to determine spiritual imbalances, as energy science tells us that emotions have different vibrations. Shame is considered the lowest level of human consciousness, and living with it can have a detrimental impact on emotional well-being, mental health, and physical health.
How to Heal From Trauma
Recovery is not linear, and healing from trauma is a process that takes patience, courage, and strength. Everyone deserves peace — the healing process is possible for everyone.
Rewrite the Script
During an episode of Light Up Your Worth, Andrea Blint suggested an exercise to support healing, and it all comes down to practice. When you think about a difficult situation, take some time to pretend that you loved it, aiming to transform those memories. This process disarms your body's response to this particular moment, freeing you to release those harmful emotions.
Healing Through Plants
Use the healing properties of plants to empower your mindset shift with homeopathic medicine. If you are wondering "what is homeopathic medicine?", the answer is simple. It involves diluted substances that spur the body to heal itself. Popular remedies include aconite, belladonna, chamomile, and red onion.
Finding The Power to Say No
When we suffer traumatic experiences, toxic, harmful thoughts sneak into our consciousness. It is important to remember that you have a choice. You can reject these self-deprecating thoughts that you would never say to another human being. Saying "no" to yourself is a powerful, empowering thing — it reminds you that you are greater than your thoughts alone.
Join the Conversation
Tune into the conversation between me, Debbie McAllister, and life and mindset coach Andrea Blindt for the full story, including personal experiences and more tips on healing.
Are you ready to make the leap into your own spiritual healing and personal development? It's easy to experience your energetic healing by visiting our Light Up Your Worth home page.